Sports Medical Examination
A VO2max Test can be combined with a Sports medical examination or a pre-sports check-up. The sports physical part of the test will then be taken care of by a sports physician of SMA Olympia. SMA Olympia is both SCAS accredited and affiliated with FSMI (Netherlands Federation of Sports Medicine Institutions), meaning that they meet health insurers' conditions for coverage. You do not need a referral from your GP to have a Sports medical examination. The costs of a Sports medical examination are generally reimbursed under your supplementary healthcare plan and will not count towards your excess. The exact extent of the cover for a Sports medical examination depends on your insurer, so we recommend you check your policy for details. Alternatively, you can check Sportzorg.nl to see what exactly the Dutch various health insurers cover when it comes to Sports medical examinations.
Reason for a Sports medical examination?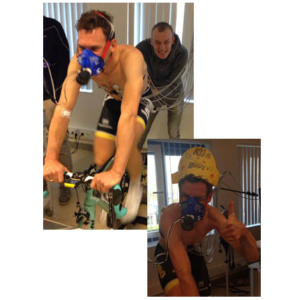 A Sports medical examination can be meaningful when you, besides a better idea of your fitness level, want a heart health check, when you have breathing issues, or when you just want a general physical check-up. Another reason for having a Sports medical examination could be that it is covered under your health insurance. Contrary to a VO2max Test on its own, a Sports medical examination is attended by a sports physician, which for most health insurers is a condition for the exam to qualify for cover.
Choosing an examination
You can choose between a VO2max Test with a Lausanne test (i.e. a 'limited Sports medical examination') or a VO2max Test with an extensive Sports medical examination. If you don't have any specific questions about or symptoms relating to an injury, and you are interested mainly in your general fitness level and training zones, a limited Sports medical examination will do. For a limited Sports medical examination, a sports physician will conduct an intake, measure your blood pressure, weigh you, measure your body fat percentage, and take a resting ECG and an exercise ECG during the VO2max Test. A limited Sports medical examination is also available in a triathlon version, whereby we will determine both your cycling and your running zones.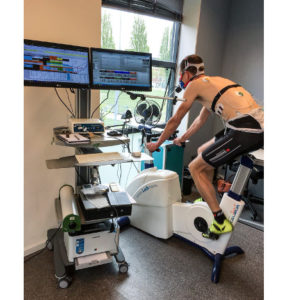 If you do have specific symptoms or questions about injuries or your health, or if you want a general health check-up, an extensive Sports medical examination is what you need. The extensive exam is the same as the limited exam plus a general internal health and orthopaedic exam (of your joints, muscles, tendons), a specific orthopaedic exam focused on the kind of sport you do, an eye test, and possibly a lung function test, depending on your symptoms and the intake. For an additional fee, you can also include a blood test, which will see us measure your haemoglobin and cholesterol levels.
Both with a limited and an extensive Sports medical examination, we can run a lactate test as part of the VO2max Test (for an additional fee). Lactate testing is intended to measure acid levels as an indicator of your fitness level and to help you determine your thresholds. Beside lactate levels, lactate testing also produces a reading of your haemoglobin and blood glucose levels.
Interested?
For a list of test options and prices, click HERE.
Or book a test right away using the SCHEDULER!